OLIVE COPPERBOTTOM
OLIVE COPPERBOTTOM: A New Musical by Charles Dickens and Penny Ashton
Following the delicate sold out successes of Promise and Promiscuity, Penny Ashton swaps Austen for Dickens and brings orphaned hero Olive, and a squalid gaggle of hilarious Victorians to crusty life. Will Olive find a family amongst the brothels, toffs and gruel? Or will Mrs Sourtart break her heart as well as her teeth?
A rollicking one-woman musical journey, through 15 gin soaked characters, that will fulfill your greatest expectations and be the best of times and well… the best of times.
Featuring reworkings of classical masters such as Chopin, Verdi and Tchaikovsky by the ever talented Robbie Ellis, and a brand new corset to make your eyes water from Elizabeth Whiting.
Ashton requests that you should come because as Dickens says; "It is a hopeless endeavour to attract people to the theatre, unless they first be brought to believe they will never get in."
Credits at the bottom of the page and tour details here.
OLIVE COPPERBOTTOM – CANADA REVIEWS 2017
"Ashton is truly a remarkable performer; she plays more than fifteen characters, always with great relish and conviction." Mooney on Theatre, Toronto

"…a delightfully nimble and talented performer." Now Magazine, Toronto
"… squeeze dozens of Dickensian characters into the body of one tightly corseted New Zealander by the name of Penny Ashton and you get Olive Copperbottom… Ashton is a one-woman-show wonder. Switching between a cast of characters with ease and grace…" CBC, 4 Stars

"…a frothy margarita of theatrical fun, with a pronounced tequila kick." Winnipeg Free Press, 4 Stars
"The audience will howl for the full 75 minutes as will anyone who appreciates talent this exceptional." Calgary Sun
"Every new character Ashton introduces is beautifully and distinctly crafted enabling Ashton to have scenes with multiple characters that allow her to keep switching personas at breakneck speed." Canadian National Post
"What makes Ashton's shows so special is that they are also musicals and she has the kind of  powerful musical theatre voice that turns her shows into pure Victorian music hall." Calgary Herald
OLIVE COPPERBOTTOM – NEW ZEALAND REVIEWS 2017
"…very very funny…very very good…" Radio New Zealand National
"Right from the start, when she bounds onto the stage and establishes with supreme confidence the main characters of her story, through to the end of the 75-minute show, her vitality and drive is relentless." The Dominion Post
"I rarely resort to the accolade 'tour de force' but here it is entirely appropriate. Olive Copperbottom will give you the best of times, even as it comments on our worst of times." Theatreview
"It was a sparkling and lively performance from talented performer Penny Ashton, with another of her brilliant one woman shows. It's quite a feat to be on stage playing an array of characters – male, female, young and old, with a wide range of voices and accents, singing songs, dancing, or serenading us with a ukulele – for over an hour without a break. But being a seasoned pro, she makes it look easy." The 13th Floor
"Ashton gives a virtuoso performance as multiple characters. Rather than costume changes she relies on slight physical and accent changes to outline each character. She's not afraid of five different characters within one song, each following the other in rapid succession." Wellingtonista
"For a truly absorbing, electrically energetic, madly captivating show, you must see Olive Copperbottom." Wellington Regional News
"…her eye for satire, the consistently high level of laughs throughout, her marvelous physicality, and her sheer likability even when dealing with hecklers and slip-ups raises the bar for one-person shows everywhere. Oh, and it's a musical, too." Salient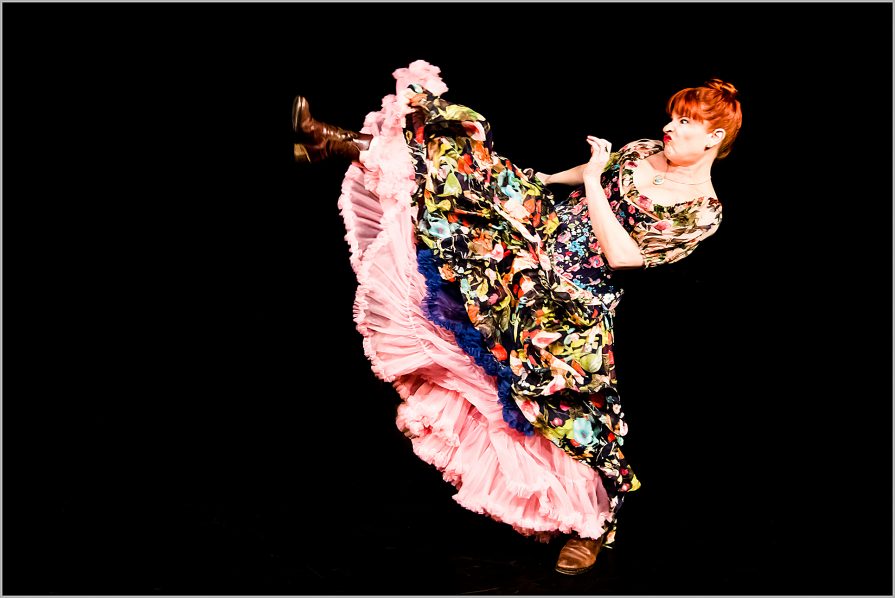 Written by: Penny Ashton and Charles Dickens (numerous quotes and allusions throughout.)
Musical Score: Robbie Ellis
Directed by: Ben Crowder
Costume: Elizabeth Whiting
Music Recorded at: Orange Studios, Christchurch
Musical Pieces and Allusions: Sailor's Hornpipe – Trad, Raggle Taggle Gypsy – Trad, Romeo and Juliet Fantasy Overture – Tchaikovsky, La donna è mobile – Verdi (Rigoletto), Nocturne Op 9/1 in Bb minor & Nocturne Op 9/2 in Eb – Chopin, Libiamo ne' lieti calici – Verdi (La Traviata), In the Hall of the Mountain King – Edvard Grieg (Peer Gynt).  Symphony No 7 in A, 2nd mvt – Beethoven, Symphony No 2 in B minor, 1st mvt – Borodin, "Pour, oh pour the pirate sherry", (The Pirates of Penzance) – Gilbert & Sullivan, Overture to /A Midsummer Night's Dream – Mendelssohn,  Scotland the Brave – Trad, Ding Dong Merrily on High – Trad, plus original compositions by Robbie Ellis
         
Conducter: Michael Bell, Piano – Alison Holden, Violin – Jonathan Tanner, Cello –  Tomas Hurnik, Flute – Rebecca Robinson, Clarinet – John Robinson, Engineer: Thom O'Connor, Assistant Engineer: Cara Wylde