PROMISE AND PROMISCUITY
PROMISE AND PROMISCUITY: A New Musical by Jane Austen and Penny Ashton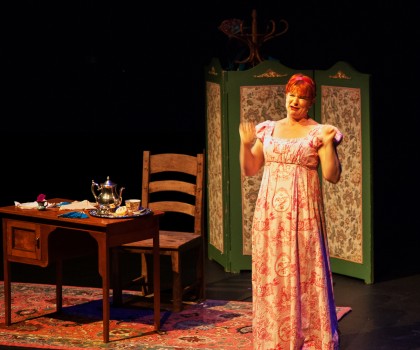 In four years Promise and Promiscuity has delicately romped all over the world from Stewart Island to Regina, Saskatchewan to Edinburgh to Adelaide to Bath. This one woman multi character musical has charmed and delighted thousands with its wit, innuendo and satirical sparkle and in 2017 it is on the road again.  Promise and Promiscuity will grace the Adelaide and Brisbane Cabaret Festivals in June and embark on it's first tour of the UK and Ireland in October and November.  Click HERE FOR DATES.
The Jane Austen Festival had the following to say; "It's official the Jane Austen Festival in Bath UK, loves, loves, loves, Penny Ashton – "Brilliant show I loved it", "What amazing energy!" "How does she remember which character she is?" "Fantastic talent, please come back next year"
It is a truth universally acknowledged that a woman in possession of a theatre script…must be in want of an audience. Charmingly accomplished Penny Ashton (Austen Found, Hot Pink Bits, Good Morning, Poetry Idol) mashes up the Regency, bonnets and big balls…with alacrity!
Follow the fortunes of Miss Elspeth Slowtree as she battles literary snobbery, her mother's nerves and Cousin Horatio's digestions, all armed with a superior wit, excellent ukulele skills and generally being quite bright… you know… for a girl.  Balls will be attended, crosses will be stitched and manners will be minded, all with not one ankle in sight. As Elizabeth Bennett herself says "Follies and nonsense, whims and inconsistencies do divert me, I own, and I laugh at them whenever I can."
And so should you.
Featuring classical masterpieces, reworked by Robbie Ellis with lyrics by Penny Ashton, and 33 direct quotes of Jane Austen's various books and letters.  (Click here to go to the Jane Austen Centre's Free Quote App.)
Featuring the Fifth Great Niece of Austen's own flirtation and possible Darcy inspiration Thomas Langlois Lefroy.
If you enjoyed the play why not buy the NOVELLA, recently published on Amazon.  You can purchase it here.
FOR PROMISE AND PROMISCUITY –
AUSTRALIAN CABARET FESTIVALS 2017
"Ashton malappropriates Austen's words and reassigns them to a cavalcade of twitty, pompous, toffee-nosed and occasionally revolting characters who espouse antiquated attitudes peppered with very thinly veiled double meanings, much to the audience's delight."  Adelaide Advertiser, June 2017
"Penny's stamina did not waver once during the 70 minute show, no small feat given the high energy nature of her monologue. Whether hopping nimbly from side to side to enact a conversation in a moving carriage, belting out songs with the enthusiasm of an animated Disney heroine, or period dancing with an audience member, Penny performed with gusto and heart." Scenestr, June 2017
GLOBAL TOURING REVIEWS 2016
"…Ten minutes into Promise and Promiscuity I knew I had to see it again. It was just that good — brilliantly performed, absolutely hilarious, and by far the best one-person show I've ever seen.." Mooney on Theatre, Toronto, July 2016

"Along with surprisingly sweet music, Ashton brings a modern sensibility to the tale, poking fun at period etiquette, life-threatening rain, and the plight of women — who will surely be on equal financial footing with men 200 years hence. She also makes good on the program's innuendo warning, contributing to the general merriment and needing little persuasion to draw laughter from an appreciative audience." ★★★★1/2  Winnipeg Free Press, July 2016
Ashton is a wonderful whirling dervish – seamlessly segueing between at least eight characters, weaving a wonderful yarn and spellbinding her audience. Following the story is made simple by Ashton, each of her characters are wonderfully larger than life, have distinguishable manners and features, and she never deviates or steps out of them" ★★★★1/2 , Reviews Hub, Edinburgh 2016

NEW ZEALAND REVIEWS 2016
"…a unique and exceptionally innovative piece of entertaining theatre not to be missed." The Dominion Post, Wellington NZ, May 2016
"Indeed not only does Miss Ashton deliver her own and Jane Austen's deliciously witty and eloquent text with due alacrity and vocal panache but she also personifies her plethora of Austenesque characters with admirable physical dexterity."  Theatreview, Wellington, May 2016
"Promise and Promiscuity is playful, clever and electric. Ashton's charm and energy created some truly delightful moments…" Art Murmurs, Wellington May 2016
"She gets a standing ovation tonight, and quite right too. Get a ticket if you can." Theatreview, Hamilton, February 2016
EDINBURGH REVIEWS 2015
"…razor-sharp wit." ★★★★★, Three Weeks
"…this is a tour-de-force." ★★★★★, Three Weeks5 Stars, Edinburgh 49+3

"…a sparkling performer whose energy bounces off the stage." ★★★★, The Scotsman

"…stays just this side of bonkers…puts the allegro into Austen." ★★★★, The Daily Mail

NEW ZEALAND AND AUSTRALIAN TOUR REVIEWS 2015
NOMINATED – BEST MUSIC or MUSICAL, PERTH FRINGEWORLD AWARDS 2015
WINNER – WEEKLY AWARD BEST THEATRE, ADELAIDE FRINGE 2015, WEEK THREE
"I left with a grin on my face, already planning who I would take next to see it. It's Pride and Prejudice gone wild in the best way." ★★★★★, Rip It Up, Adelaide February 2015
"A razor-sharp turn of phrase (more Wilde than Austen for its spectacular backhandedness) and an enthusiastic physical performance make this quite literally a laugh a minute." ★★★★1/2, Adelaide Advertiser, February 2015
"…you'll be absolutely enchanted and hilariously entertained…. Double bravo!" The Barefoot Review, February 2015
"…witty, fast paced and positively charming production." ★★★★, Clothesline, February 2015
"Penny Ashton is remarkable in her one woman show…" ★★★★, Adelaide Theatre Guide, February 2015
"As Ashton takes her bow, the audience shows their appreciation through thunderous applause…"  CargoArt Magazine, February 2015
"This is an extremely neatly penned concoction, very well acted and excellently staged. As they say, "It deserves to run and run."  Australian Stage, Perth, February 2015
"Penny Ashton wows with her writing, singing and dancing in the pastiche…" Arts Hub Australia, Perth, February 2015, ★★★★

"…Ashton skips (literally) between her many characters, and is a joy in all of them." The West Australian, Perth, February 2015
"…an assured and completely engaging presence, whose quicksilver romp through her material keeps her audience rapt." Theatreview, Christchurch, January 2015
NEW ZEALAND TOUR REVIEWS 2014
WINNER – TOURING PRODUCTION OF THE YEAR, DUNEDIN THEATRE AWARDS DECEMBER 2014
"…a triumph of delightful satire." Otago Daily Times, October 2014
"…she struts, preens, and pouts her way through what is a lightening-paced and riotous parody." Theatreview, Christchurch, 2014
"…a delight to watch." Theatreview, Auckland, 2014
"…she brilliantly modified a tale of an early Romantic era amalgamating Austen's novels and combining it with contemporary nonsense. Her performance was captivating, it was witty, clever, energetic and near perfect (all in old English too)." Mac and Mae, Auckland 2014
CANADIAN TOUR REVIEWS 2014
"But first and foremost, Ashton's play is – like an Austen novel – about a good story well told. And that, dear reader, is why I suggest you see it." ★★★★★ CBC Winnipeg 2014
"…a gloriously crowded one-woman show…" ★★★★1/2 Winnipeg Free Press 2014
"…a winning production, one that works its powers of persuasion on Austen devotees and novices alike." ★★★★ Calgary Herald 2014
"Somewhere Jane is smiling." ★★★★★, Edmonton Sun 2014
"Ashton is an absolute revelation…a tour de force." ★★★★, Global TV, Edmonton 2014
"Fantastic…" ★★★★, Vue Weekly, Edmonton 2014
NEW ZEALAND TOUR REVIEWS 2014
WINNER – BEST PERFORMANCE IN A COMEDY, AUCKLAND FRINGE 2013
"…in the hands of Misses Ashton and Austen, this is an "attractive ball" of a show." NZ Herald 2013 February
"Promise and Promiscuity is a fast-paced romp that entertains from the opening scene to the hilarious final bow." Theatreview 2013

."The well-crafted script is decidedly cheeky and dripping with irony – the witty double entendres and cleverly tweaked names bring this 19th century story to modern day, making it more easily accessible." The Whimsical Banana, 4 Stars 2013

CANADIAN TOUR REVIEWS 2013
"New Zealander Penny Ashton is a delight to behold in this one-woman pastiche of Jane Austen and modern culture, and you'll be delighted whether or not you know your Bennets from your Dashwoods." CBC Winnipeg ★★★★★

"For lovers of Regency Era romances, modern musicals, and cheeky wordplay in general, Promise and Promiscuity accomplishes a successful mashup of genres that many modern re-imaginings can only hope to achieve." The Charlebois Post. 2013

"A Regency romance pop-culture musical mash-up full of double entendres and cheeky fun, Promise and Promiscuity will please both Janeites and Jane-whos." Winnipeg Free Press ★★★★

WINNER – PATRON'S PICK WINNIPEG FRINGE 2013
"…most naughty and diverting. Spiffing." ★★★★ 1/2 Stars Edmonton Journal 2013
"Fringe performers take note: this is how you do a one-man show." ★★★★ Edmonton Vue Weekly 2013
"Promise and Promiscuity is simply a wonderful production…exceedingly clever satire." Plank Magazine, Vancouver 2013
"Ashton, who sings beautifully, writes new words — sometimes in the manner of Gilbert and Sullivan — to contemporary songs and charms the pants off us in the process." Vancouver Courier 2013

"a one-woman tour de force filled with cleverness…A riot of a show." Vancouver Escape 2013

"…one woman channels a colourful cast with only props, vocal gests, and gesticulations. And she does it with incredible ease and clarity. Beethoven and Bon Jovi pair up as Ashton sings and ukuleles her way through romantic angst with effortless exuberance." CVV Magazine, Victoria 2013

WINNER – BEST SOLO SHOW FEMALE, VICTORIA FRINGE FESTIVAL 2013